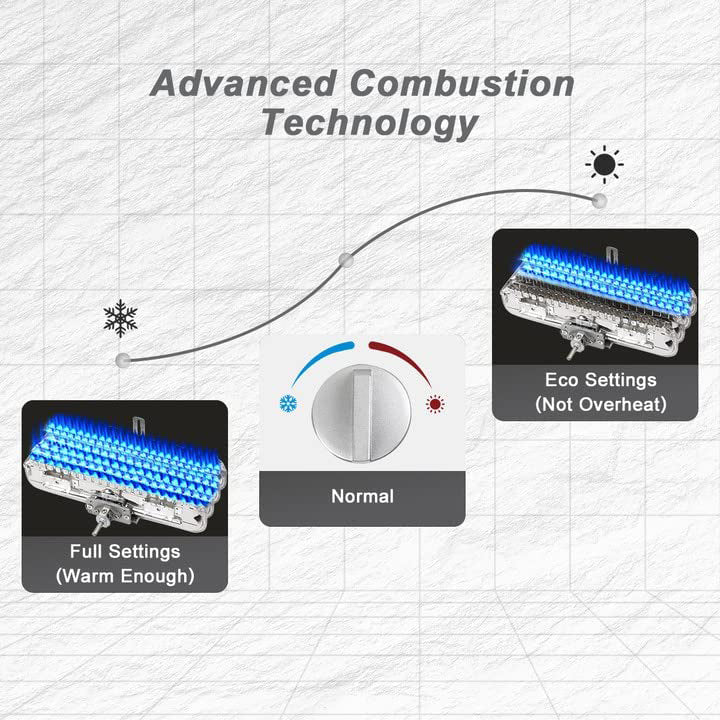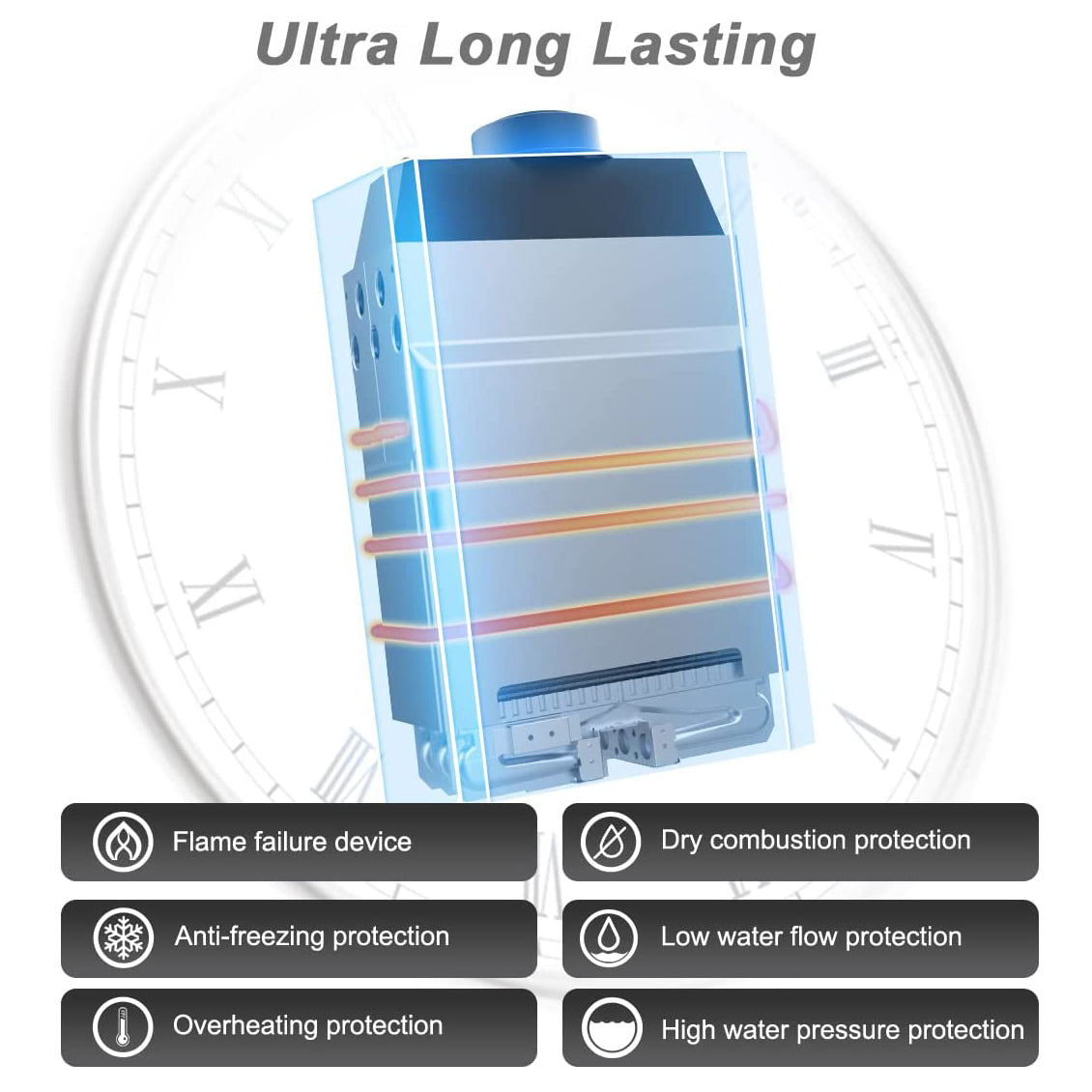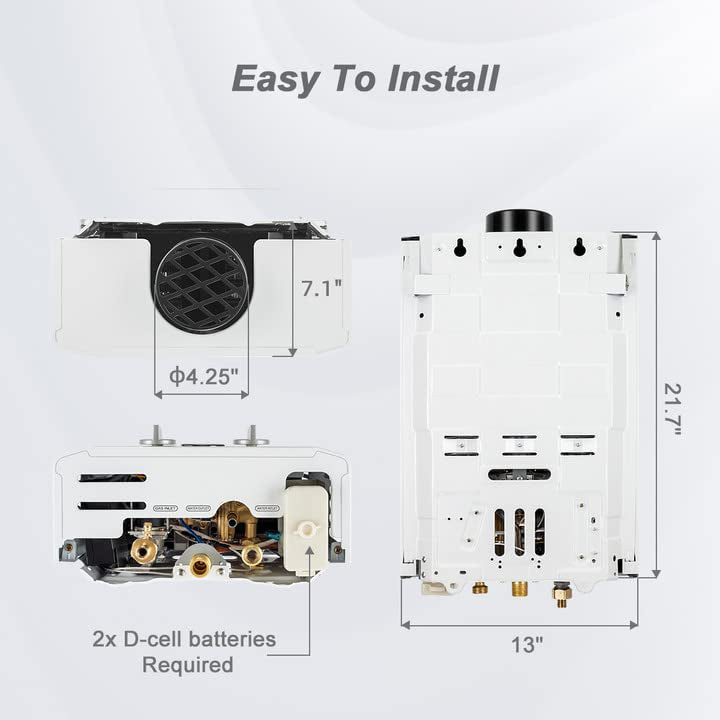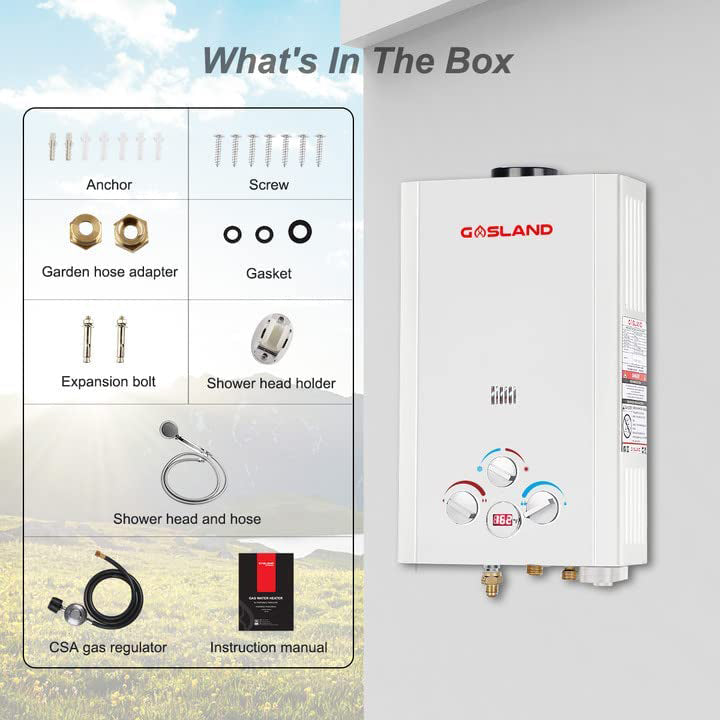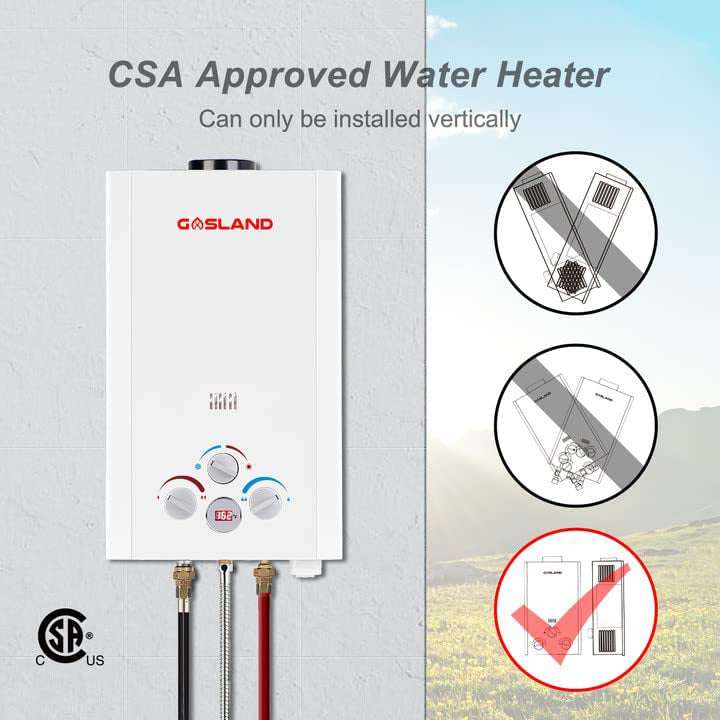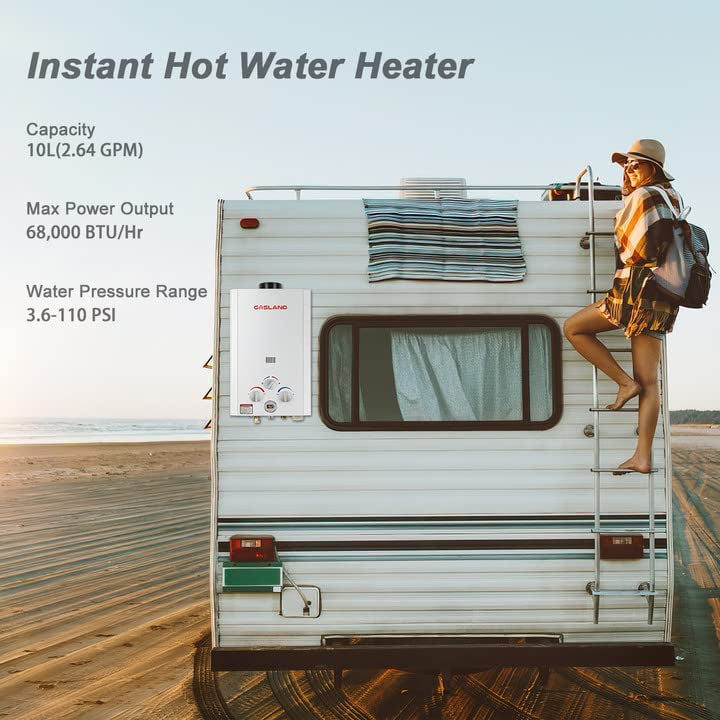 GASLAND Outdoors Water Heater 2.64GPM 10L LED Digital Screen Portable Propane Instant Hot Water Heater for RV Camping
| | |
| --- | --- |
| | 6% Off For First Order, Code: NEW |
| | FREE Shipping From CA | Sameday Dispatch |
| | 30-Day Hassle-Free Return |
| | Estimated Delivery in 3-5 Business Days |

BE264 Water Heater
GASLAND Chef BE264 Tankless Water Heater is a portable and efficient option, delivering a maximum power output of 68,000 BTU/Hr. With a flow rate of 2.64 GPM, it can produce 2.64 gallons of hot water per minute. It runs on a standard 20 lb. liquid propane tank and features safety protections and a digital display for temperature control. The water heater comes with a 1-year warranty and is designed for outdoor use.
𝟮.𝟲𝟰𝗚𝗣𝗠/𝟭𝟬𝗟 𝗣𝗿𝗼𝗽𝗮𝗻𝗲 𝗪𝗮𝘁𝗲𝗿 𝗛𝗲𝗮𝘁𝗲𝗿 - Maximum power output 68,000BTU/Hr. The temperature rise is 109.4℉ (43℃) at its highest point and 55.4℉ (13℃) is at its lowest point of 2.64 GPM. Also, 2.64 gallons of hot water can be produced per minute at a flow rate of 2.64 GPM. Low water pressure start-up, just need 3.6 PSI of water pressure to start.

𝗚𝗼𝗼𝗱 𝗳𝗼𝗿 𝗢𝗳𝗳-𝘁𝗵𝗲-𝗚𝗿𝗶𝗱 - Runs on a standard 20 lb. liquid propane tank and is equipped with an electronic ignition powered by two D-cell batteries. Can be used in a variety of scenarios: while you're camping, RVing, hunting, hanging poolside, washing your pets or horses, cleaning your vehicle, or even in your tiny home, greenhouse, or cabin house.

𝗔𝗱𝘃𝗮𝗻𝗰𝗲𝗱 𝗦𝗮𝘁𝗲𝗳𝘆 𝗣𝗿𝗼𝘁𝗲𝗰𝘁𝗶𝗼𝗻 𝗦𝘆𝘀𝘁𝗲𝗺 - With CSA certification, safe as per Canadian and US Standard. Features over-heating protection, low water flow protection, dry combustion protection, anti-freezing protection, high water pressure protection, and flame failure device.

𝗟𝗘𝗗 𝗗𝗶𝗴𝗶𝘁𝗮𝗹 𝗗𝗶𝘀𝗽𝗹𝗮𝘆 - Bright power, the temperature readout so as to not get the water too hot or cold.

𝟭-𝗬𝗲𝗮𝗿 𝗖𝘂𝘀𝘁𝗼𝗺𝗲𝗿 𝗦𝘂𝗽𝗽𝗼𝗿𝘁 - We provide a 1-year Warranty against manufacture defects and lifetime customer support.

𝗪𝗵𝗮𝘁'𝘀 𝗜𝗻𝗰𝗹𝘂𝗱𝗲𝗱 - GASLAND BE264 Tankless Water Heater, CSA certified gas regulator, and hose,5 feet On/Off Switch Shower Head, mounting hardware, garden hose adapter, Manual.

𝗠𝗮𝗶𝗻𝘁𝗲𝗻𝗮𝗻𝗰𝗲 𝗧𝗶𝗽𝘀 - Designed for portable outdoor use. It is splash-proof and can manage a little drizzle, however, prolonged exposure to rain/water will damage the internal components. We recommend using and storing your water heater in a dry place. For the winter, please drain out the water by disconnecting the drain plug and storing it in a warm and dry area.
Shipping Method:
(1)Standard / small orders ship out via: Canada Post and FedEx.
(2)For large items, multiple items or large orders we use LTL freight.
Shipping Time: Standard shipping: 4-6 business days. LTL shipping: 8-10 natural days.
Once an order has shipped we are unable to change or modify it for any reason. For orders that use the LTL shipping method, if the consignee requests to change the destination, the shipment will return to the shipper and we will issue a refund less the 20% restocking fee.
Order Processing Time: 1-2 business days.
*Business days don't typically include weekends, however Saturday and Sunday deliveries may occur in certain zip codes.
*If you need to request a cancellation or make any changes to your order. Please contact our customer support as soon as possible by telephone at (844)-538-7890 or email at (support@gaslandchef.com) Monday - Friday from 9am -5pm EST. Unfortunately once an order has been sent to our warehouse we cannot guarantee cancellation or changes as to we are working quickly to get your order to you.
1: If you would like to return an item, please contact our customer support via email at (support@gaslandchef.com) or telephone (844)-538-7890 Monday - Friday from 9 am -5 pm PST to request a return within 30 days of delivery for a full refund. When contacting our support team ensure you provide them with your return reason.
2: Returns made without approval will not be accepted as to we have different return addresses for different products.
3: For returns due to buyers remorse (ie: Order by mistake, Does not fit, Change my mind, No longer needed, etc) customers are responsible for the return shipping cost along with a 20% restocking fee applied. You should also save your tracking number to confirm when your item has been received at our location. Items being returned due to defects or quality issues a pre-paid return label will be provided to you upon you providing us with any pictures/videos showing the issue you are encountering.
4: If an item is found to be damaged in shipping. Do not accept or sign for the product. Simply refuse the package with the carrier and contact our customer support asap.