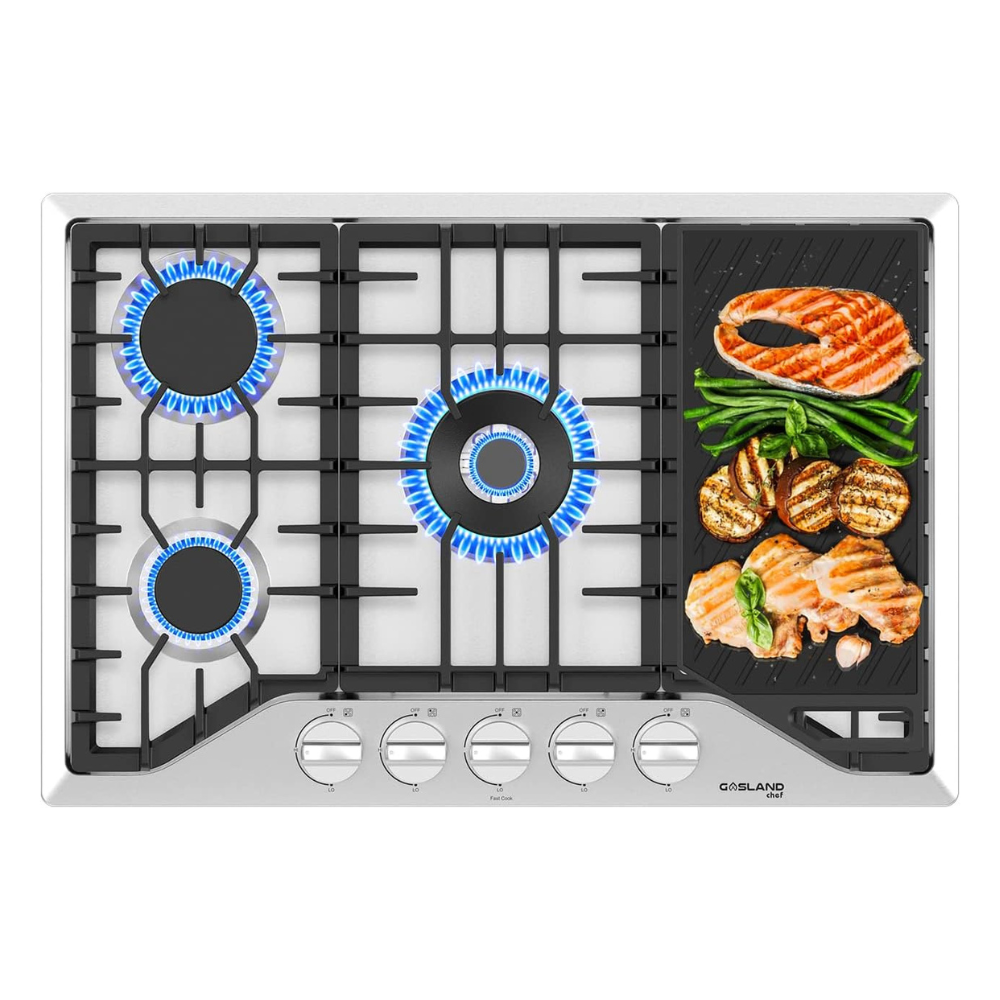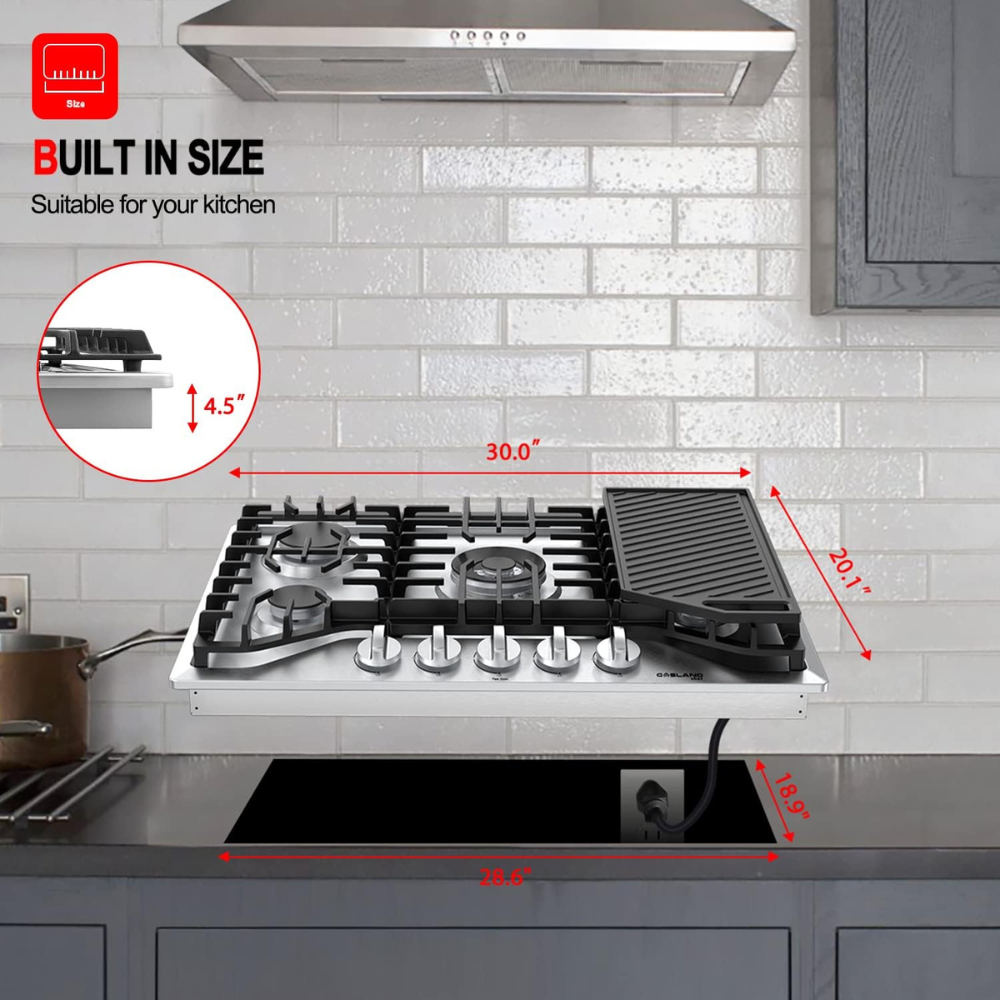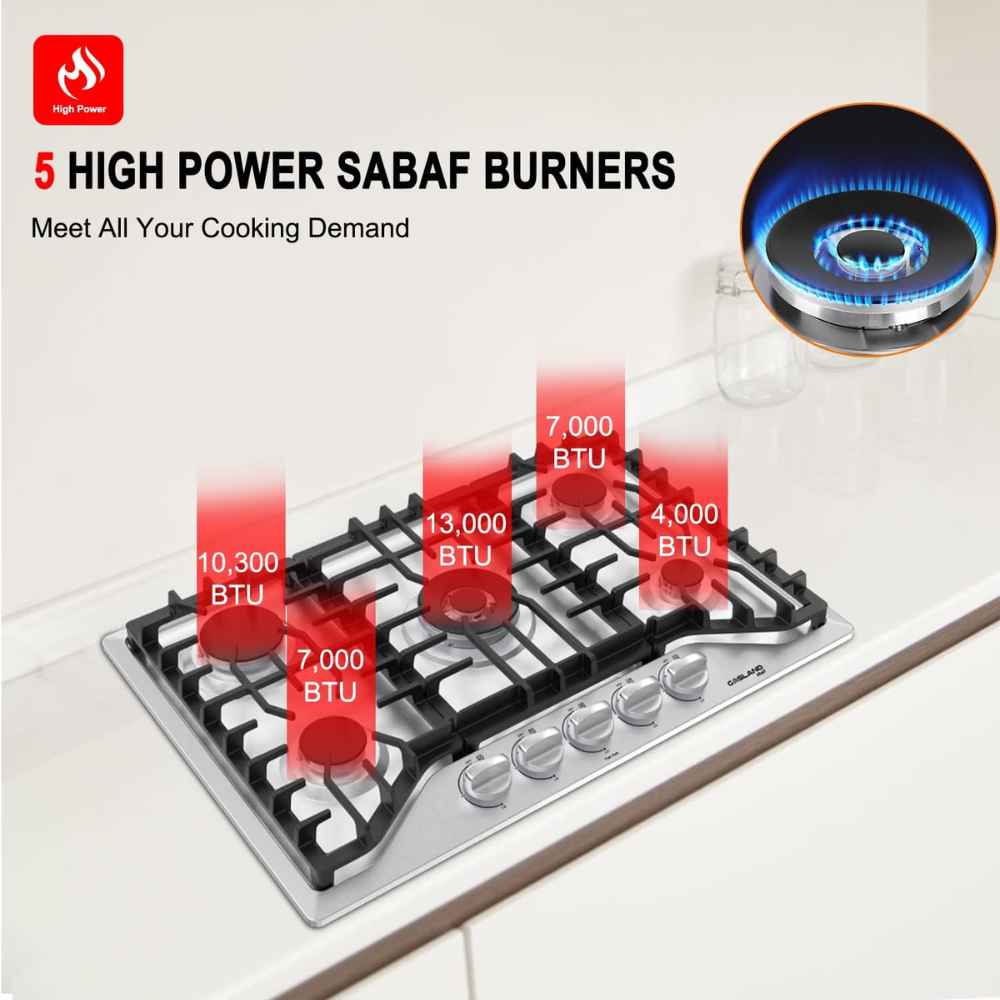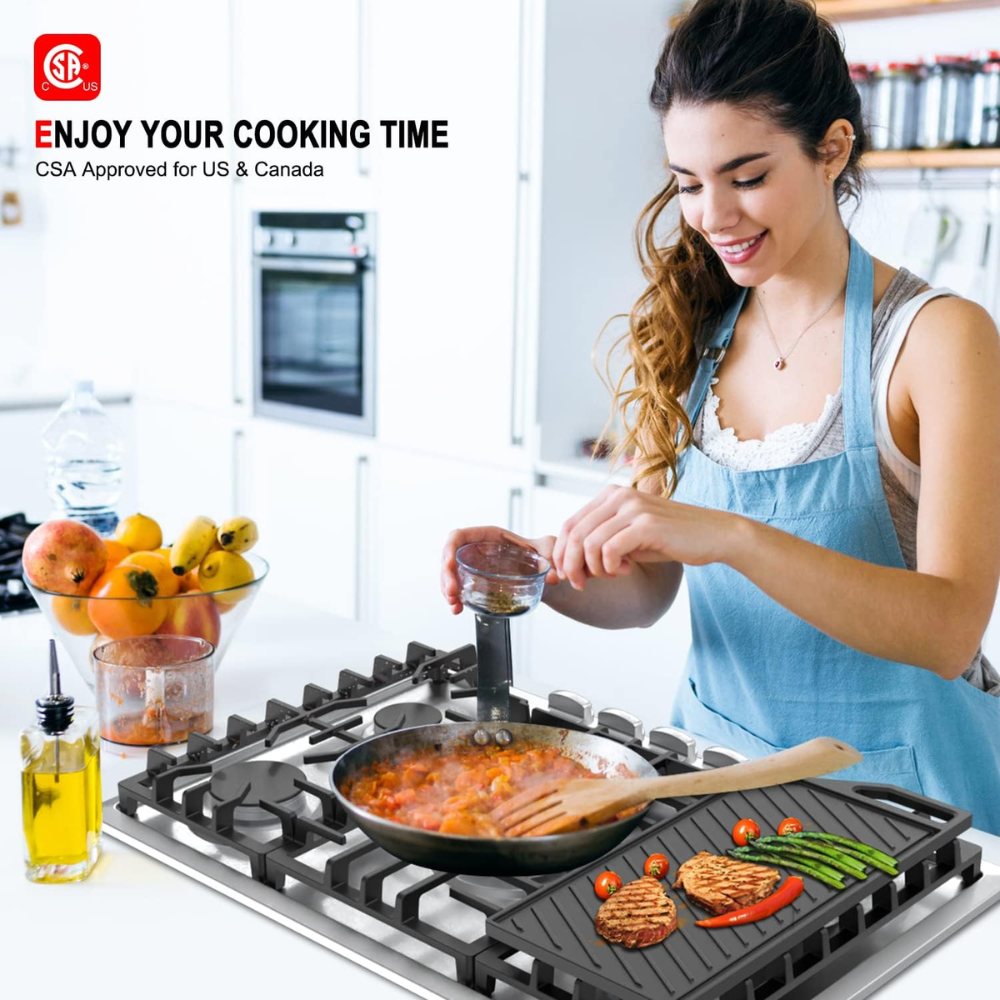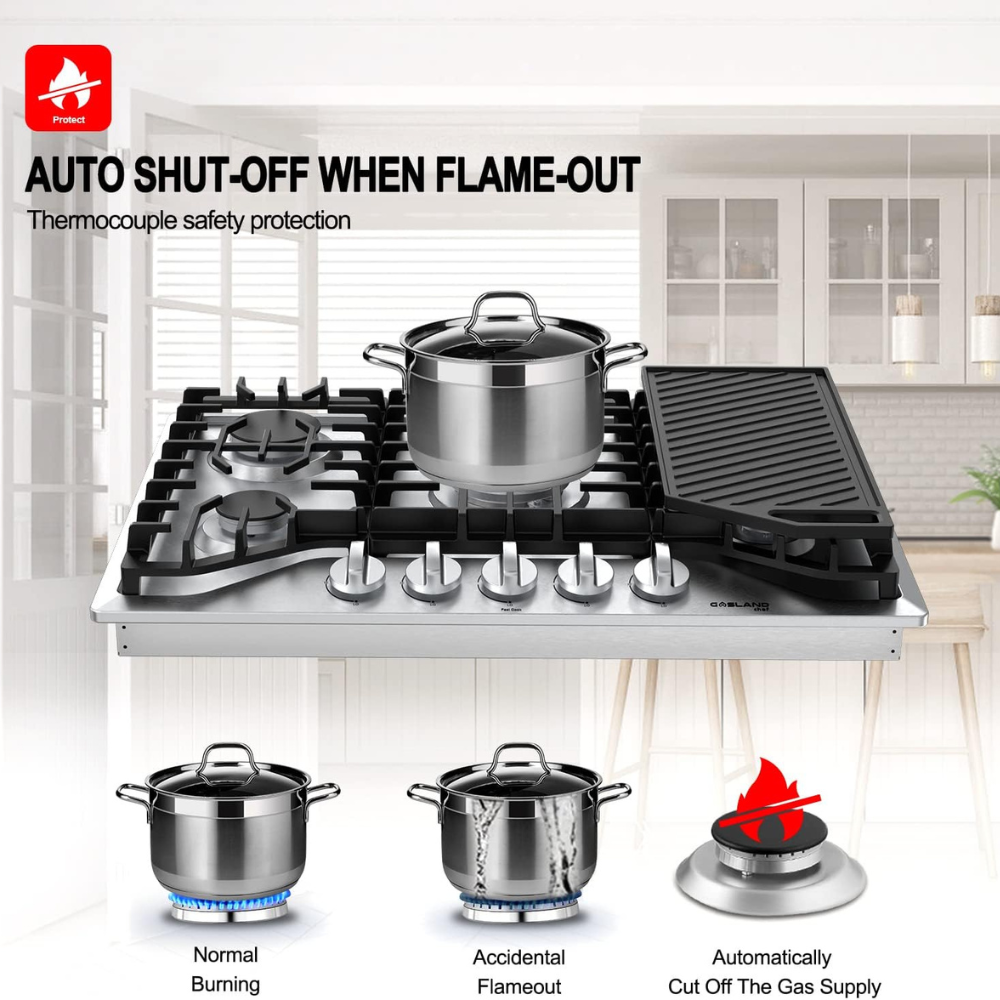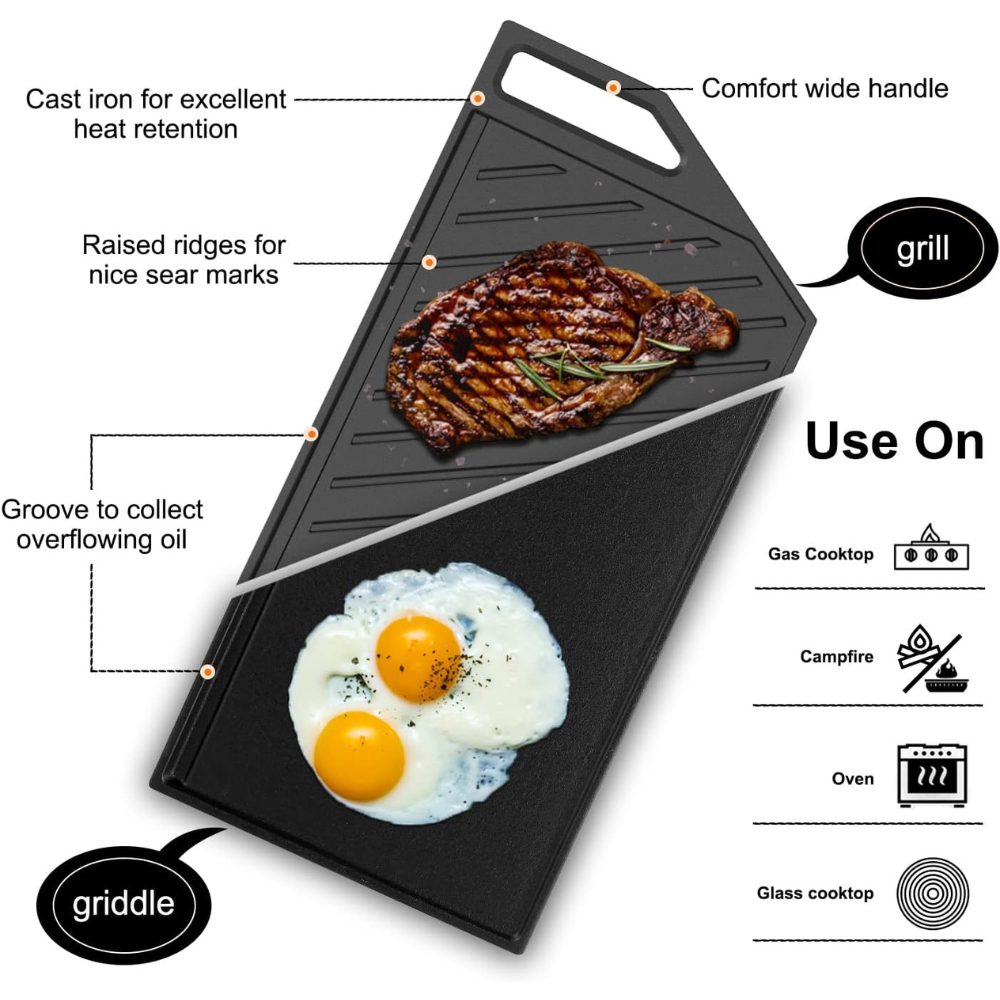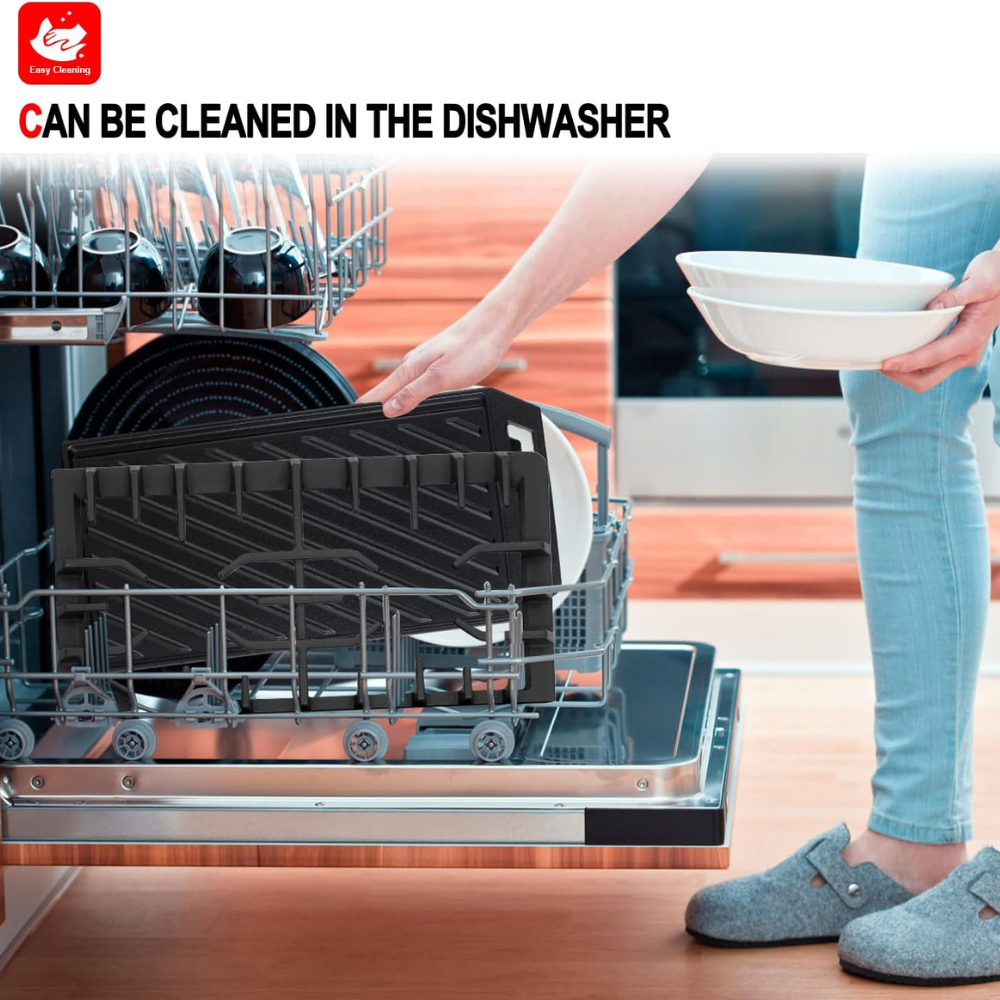 GASLAND Chef 30 Inch 5 Burner Stainless Steel Wok Burner Stovetop with Reversible Grill/Griddle
| | |
| --- | --- |
| | 6% Off For First Order, Code: NEW |
| | FREE Shipping From CA | Sameday Dispatch |
| | 30-Day Hassle-Free Return |
| | Estimated Delivery in 3-5 Business Days |

PRO GH3305SF Gas Cooktop
GASLAND Chef 30-inch Gasland Chef gas cooktop features 5 sealed burners, including high-output burners for boiling and simmer burners for delicate dishes. It has a reversible grill & griddle for versatile cooking, works with both natural gas and liquid propane and is easy to clean. Safety features include thermocouple protection and CSA certification. The heavy cast iron grate adds stability, and 5 knobs control each burner separately.
【5 Powerful High-Efficiency Burners】This drop-in 30-inch gas cooker features 5 Italy Sabaf high-efficiency sealed burners. 10,200 & 12,000 BTUs high output burners for boiling, searing, pan frying. And 3,400 and 6,000 BTU simmer burners deliver consistent and accurate low heat for delicate cuisines. Excellent for cooking in versatile styles.

【2-in-1 Reversible Grill & Griddle】 - Cast from solid, pure, premium-grade steel and iron, masters heat distribution for excellent heat retention and the perfect sear. Grill ridges for nice sear marks. Comfortable wide handle for easy grip. Fit over the high flame of two burners, and works with all heat sources too.

【2 Convertible Gas Supply 】This dual-fuel gas hob is designed for natural gas and liquid propane. The initial setting is for natural gas, which comes with both natural gas & propane nozzles. Capable for multi-purpose such as RVs, light cooking families, small kitchens, and mobile homes.

【Easy Maintenance】Built with 304 stainless steel surface, resists stain, heat, and discoloration. 5 sealed burners prevent food from falling into them. You can simply remove the grates and wipe them clean with water or detergent. The automatic electric pulse ignition uses 120V AC power(Comes with a 4FT cord plug), which will become more convenient to your life. The built-in size is 28.6" x 18.9" while the whole product size is 30.0" x 20.0" x 3.9" for this built-in gas cooktop.

【Thermocouple Protection + CSA Certification】This 30-inch NG/LPG gas stove-top is CSA certified for US and Canada use including a CSA certified gas pressure regulator. The thermocouple flame-out failure device system(FFD) will shut off the gas automatically if a flame is not detected to ensure your safety in an emergency.

【Thoughtful Design】 Heavy cast iron grate makes cooking more stable, and won't drop even a mini pan. 5 melt-proof zinc alloy knobs can respectively control 5 burners, allowing cooking 5 meals at the same time. Shorten dinner party preparation time.
Shipping Method:
(1)Standard / small orders ship out via: Canada Post and FedEx.
(2)For large items, multiple items or large orders we use LTL freight.
Shipping Time: Standard shipping: 4-6 business days. LTL shipping: 8-10 natural days.
Once an order has shipped we are unable to change or modify it for any reason. For orders that use the LTL shipping method, if the consignee requests to change the destination, the shipment will return to the shipper and we will issue a refund less the 20% restocking fee.
Order Processing Time: 1-2 business days.
*Business days don't typically include weekends, however Saturday and Sunday deliveries may occur in certain zip codes.
*If you need to request a cancellation or make any changes to your order. Please contact our customer support as soon as possible by telephone at (844)-538-7890 or email at (support@gaslandchef.com) Monday - Friday from 9am -5pm EST. Unfortunately once an order has been sent to our warehouse we cannot guarantee cancellation or changes as to we are working quickly to get your order to you.
1: If you would like to return an item, please contact our customer support via email at (support@gaslandchef.com) or telephone (844)-538-7890 Monday - Friday from 9 am -5 pm PST to request a return within 30 days of delivery for a full refund. When contacting our support team ensure you provide them with your return reason.
2: Returns made without approval will not be accepted as to we have different return addresses for different products.
3: For returns due to buyers remorse (ie: Order by mistake, Does not fit, Change my mind, No longer needed, etc) customers are responsible for the return shipping cost along with a 20% restocking fee applied. You should also save your tracking number to confirm when your item has been received at our location. Items being returned due to defects or quality issues a pre-paid return label will be provided to you upon you providing us with any pictures/videos showing the issue you are encountering.
4: If an item is found to be damaged in shipping. Do not accept or sign for the product. Simply refuse the package with the carrier and contact our customer support asap.