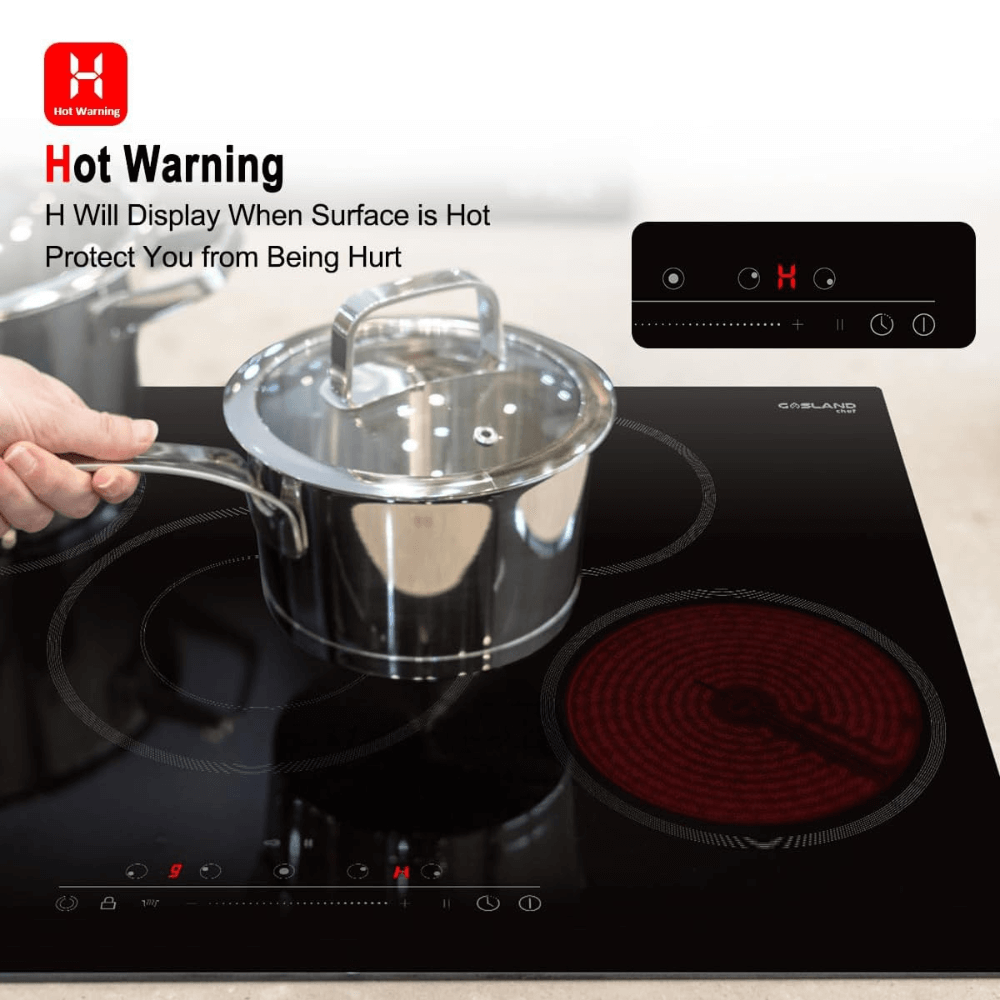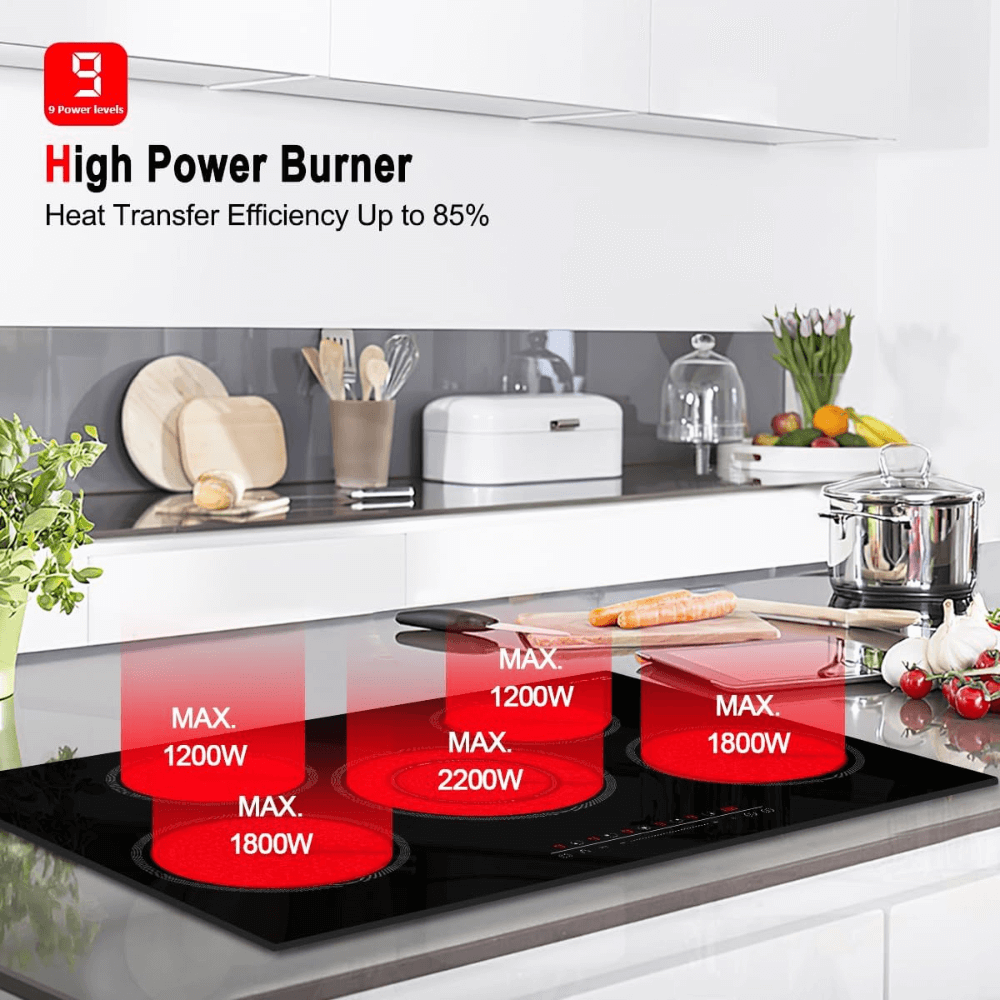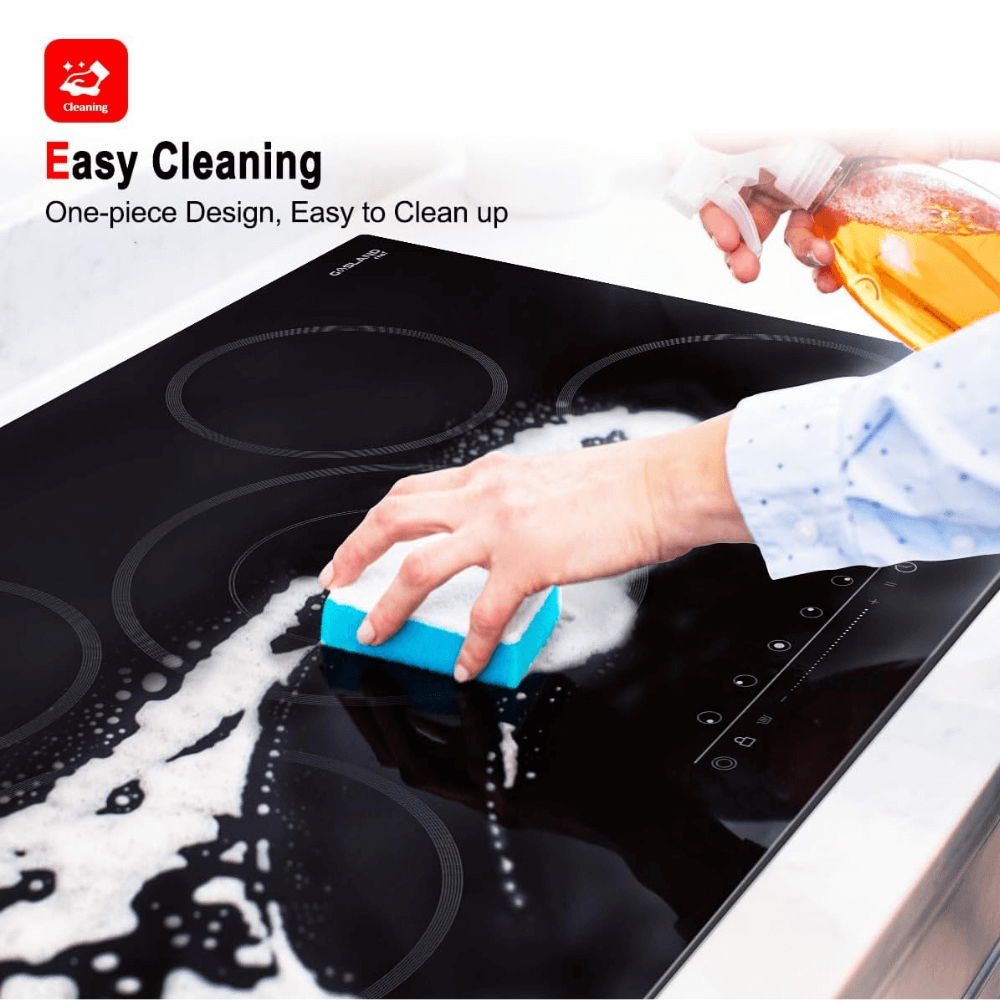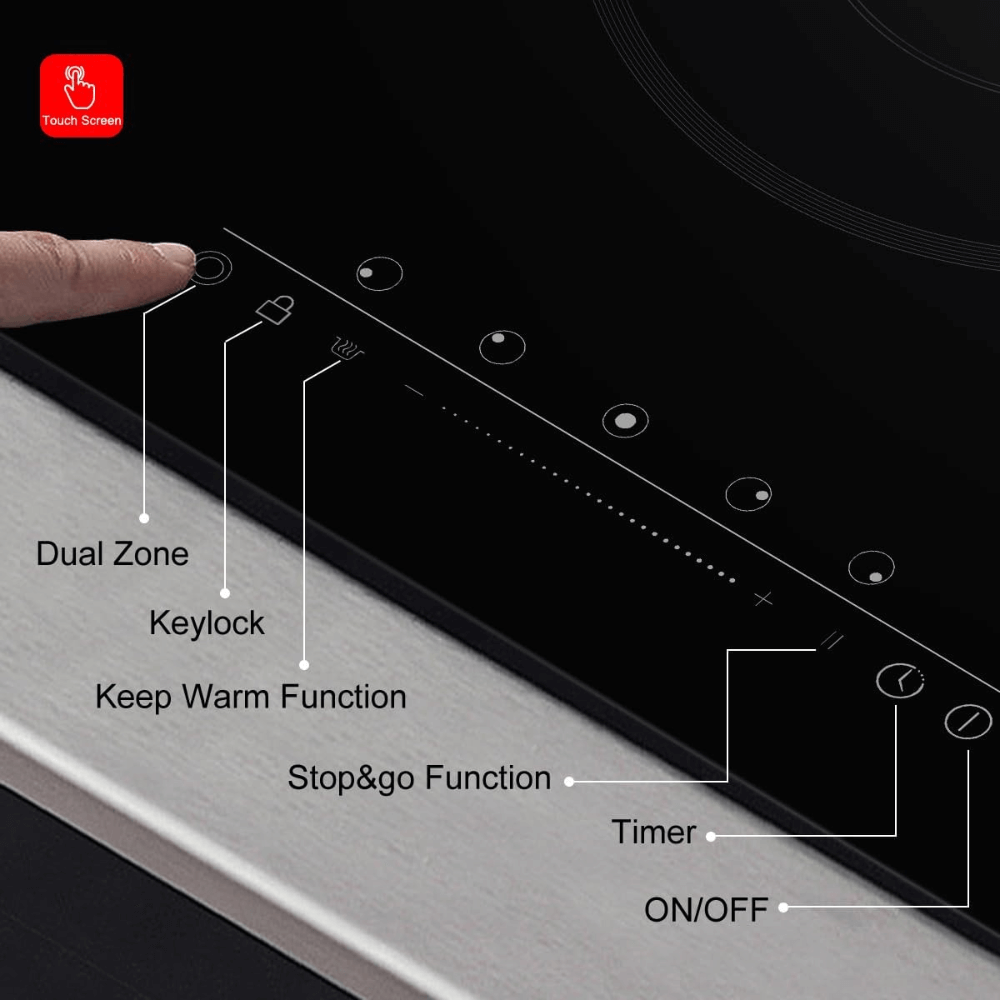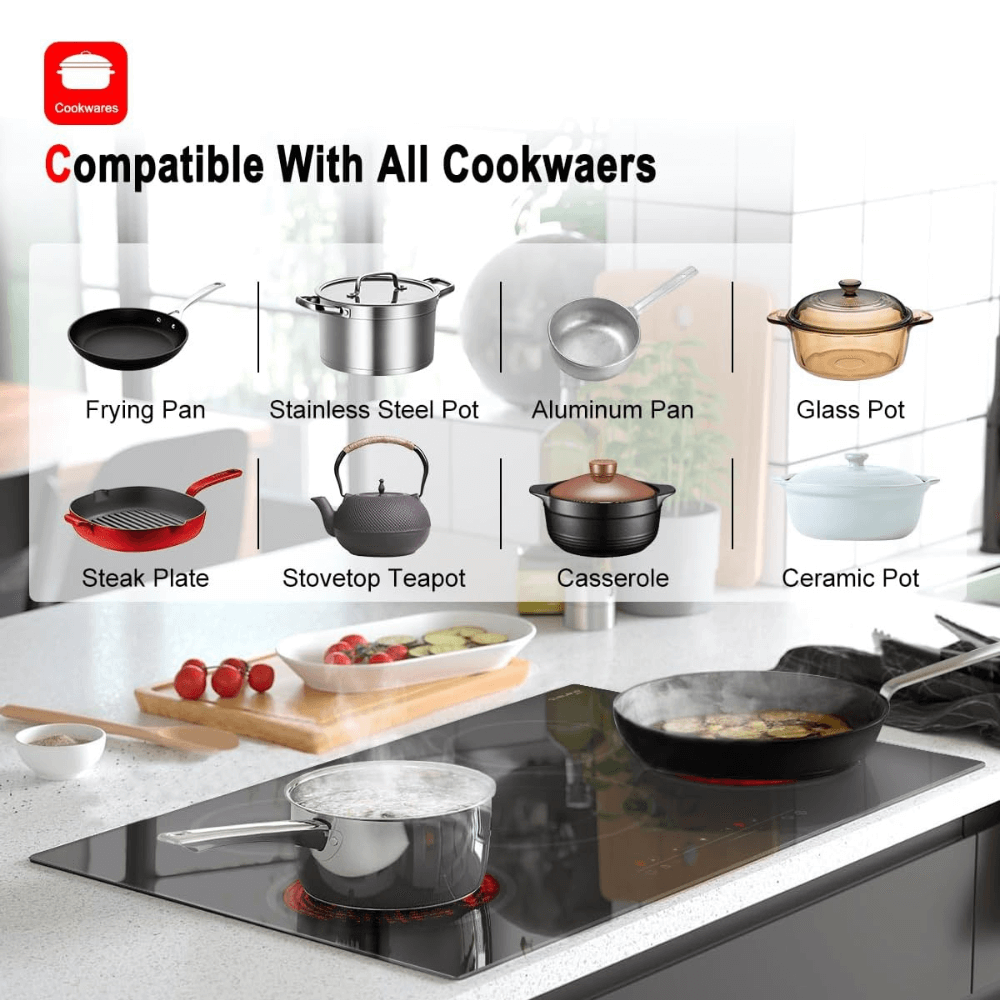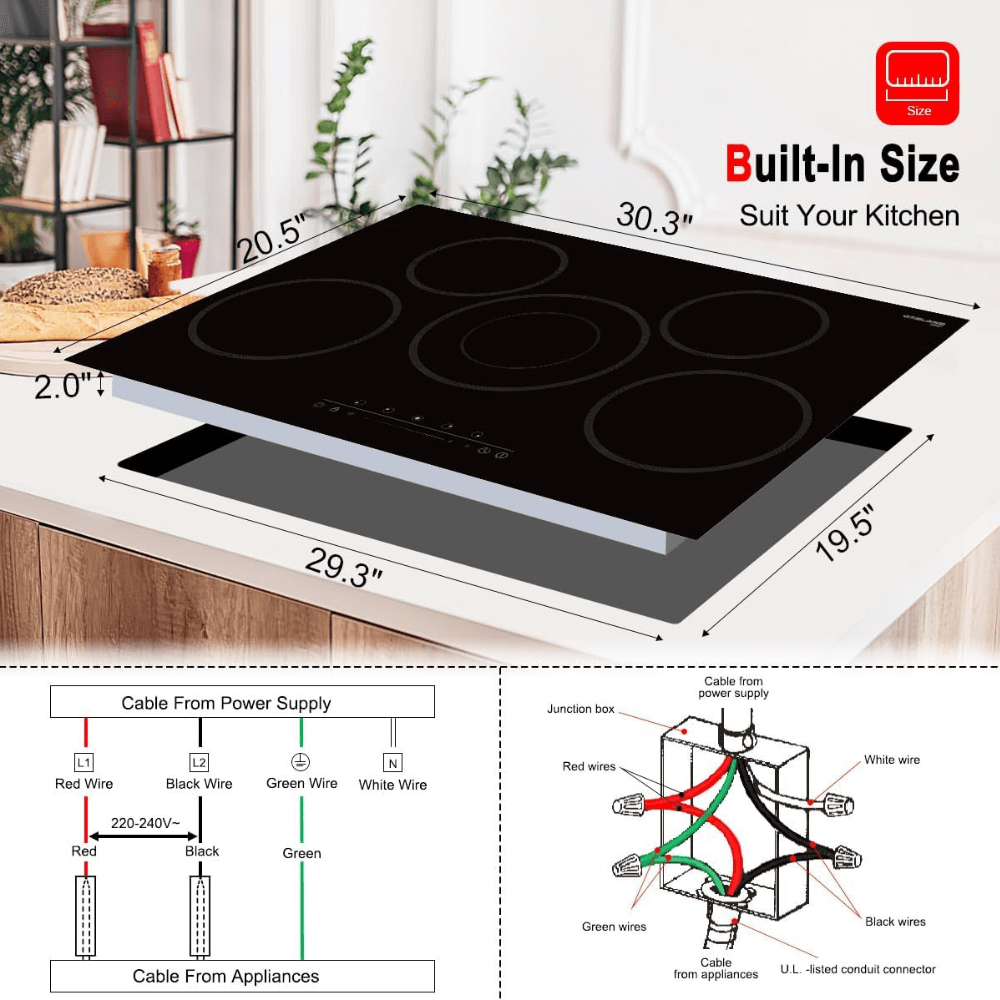 GASLAND Chef 30 Inch 5 Burner Sensor Touch Radiant Ceramic Stovetop
| | |
| --- | --- |
| | 6% Off For First Order, Code: NEW |
| | FREE Shipping From CA | Sameday Dispatch |
| | 30-Day Hassle-Free Return |
| | Estimated Delivery in 3-5 Business Days |

CH775BF Ceramic Cooktop
GASLAND Chef electric stovetop is versatile, working with various cookware types and offering 5 powerful cooking zones. It has digital sensor touch controls with 9 power levels for precise heating control and multiple safety features, including a timer for up to 99 minutes.
【Works with Any Cookwares】This built-in electric stovetop can be used with any type of cookware such as aluminum pans, copper pans, cast iron frying pans, and non-magnetic stainless steel pans, vertical heat conduction can effectively heat cookware with minimal heat loss. Heat transfer efficiency up to 85%.

【5 Powerful Cooking Zones】Product size: 30.3'' x 20.5'' x 2.0''. Cut out size: 29.3'' x 19.5''. This 30-inch electric cooktop is suitable for 240V and requires a 40A breaker & 8 wiring gauges, featuring 5 different cooking zones with a total power of 7500W. The 5.4"/9.1" double cooking zone with a maximum 1000W/2200W power, the two 6.5" round cooking zones have a maximum 1200W power, and the two 7.9" round cooking zones have a maximum 1800W power.

【Digital Sensor Touch Controls】This sensor touch control electric cooktop has 9 power levels, for precision to switch into different levels from boil to simmer. The digital sensor touch controls help to easily control the electric cooker heating accurately.

【Multiple Protection Functions】We developed and manufactured this product strictly following North American norms. This electric stove top has different protection functions to ensure safety, such as the child safety lock, overheating protection, auto shutdown protection, and residual heat warning.

【Multifunctional Timer】This electric cooktop comes with a multifunctional timer. You can use it as a time reminder when cooking or set cooking time. It will automatically turn itself off at the end of the setting time You can set the time up to 99 minutes.
Shipping Method:
(1)Standard / small orders ship out via: Canada Post and FedEx.
(2)For large items, multiple items or large orders we use LTL freight.
Shipping Time: Standard shipping: 4-6 business days. LTL shipping: 8-10 natural days.
Once an order has shipped we are unable to change or modify it for any reason. For orders that use the LTL shipping method, if the consignee requests to change the destination, the shipment will return to the shipper and we will issue a refund less the 20% restocking fee.
Order Processing Time: 1-2 business days.
*Business days don't typically include weekends, however Saturday and Sunday deliveries may occur in certain zip codes.
*If you need to request a cancellation or make any changes to your order. Please contact our customer support as soon as possible by telephone at (844)-538-7890 or email at (support@gaslandchef.com) Monday - Friday from 9am -5pm EST. Unfortunately once an order has been sent to our warehouse we cannot guarantee cancellation or changes as to we are working quickly to get your order to you.
1: If you would like to return an item, please contact our customer support via email at (support@gaslandchef.com) or telephone (844)-538-7890 Monday - Friday from 9 am -5 pm PST to request a return within 30 days of delivery for a full refund. When contacting our support team ensure you provide them with your return reason.
2: Returns made without approval will not be accepted as to we have different return addresses for different products.
3: For returns due to buyers remorse (ie: Order by mistake, Does not fit, Change my mind, No longer needed, etc) customers are responsible for the return shipping cost along with a 20% restocking fee applied. You should also save your tracking number to confirm when your item has been received at our location. Items being returned due to defects or quality issues a pre-paid return label will be provided to you upon you providing us with any pictures/videos showing the issue you are encountering.
4: If an item is found to be damaged in shipping. Do not accept or sign for the product. Simply refuse the package with the carrier and contact our customer support asap.