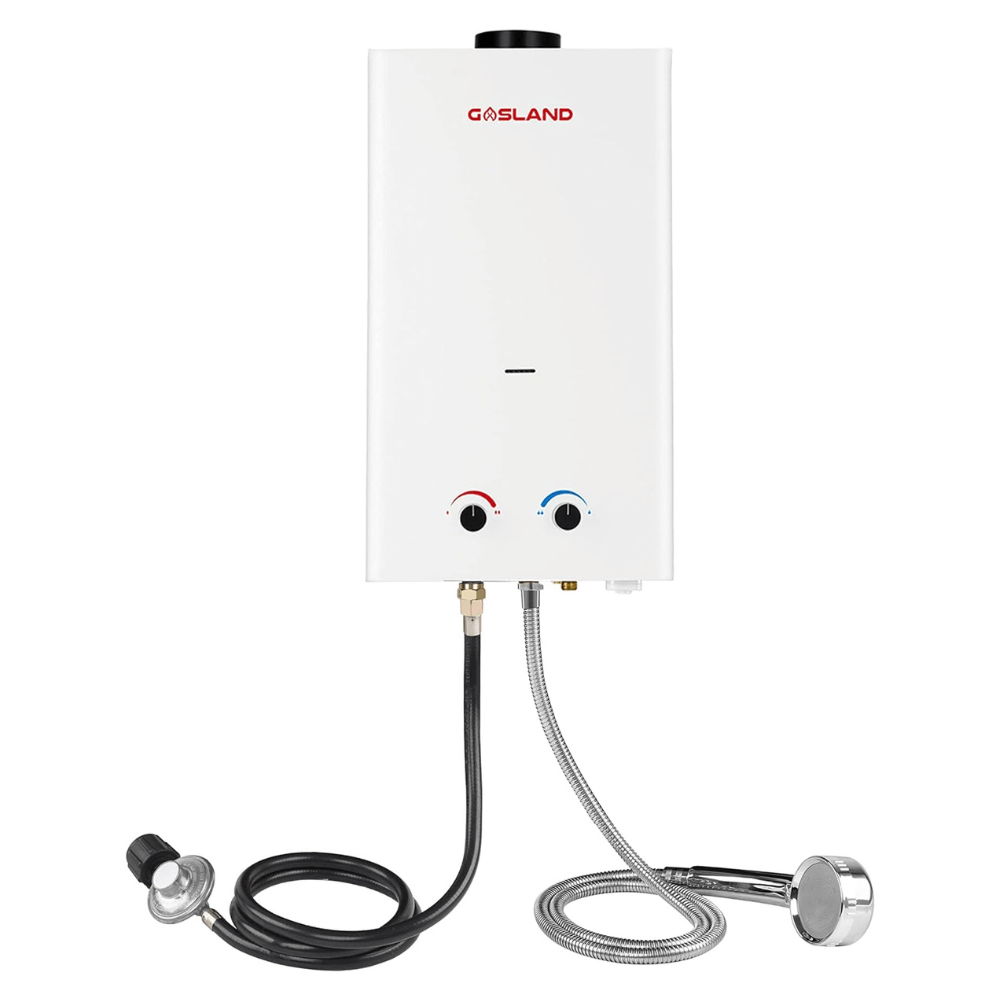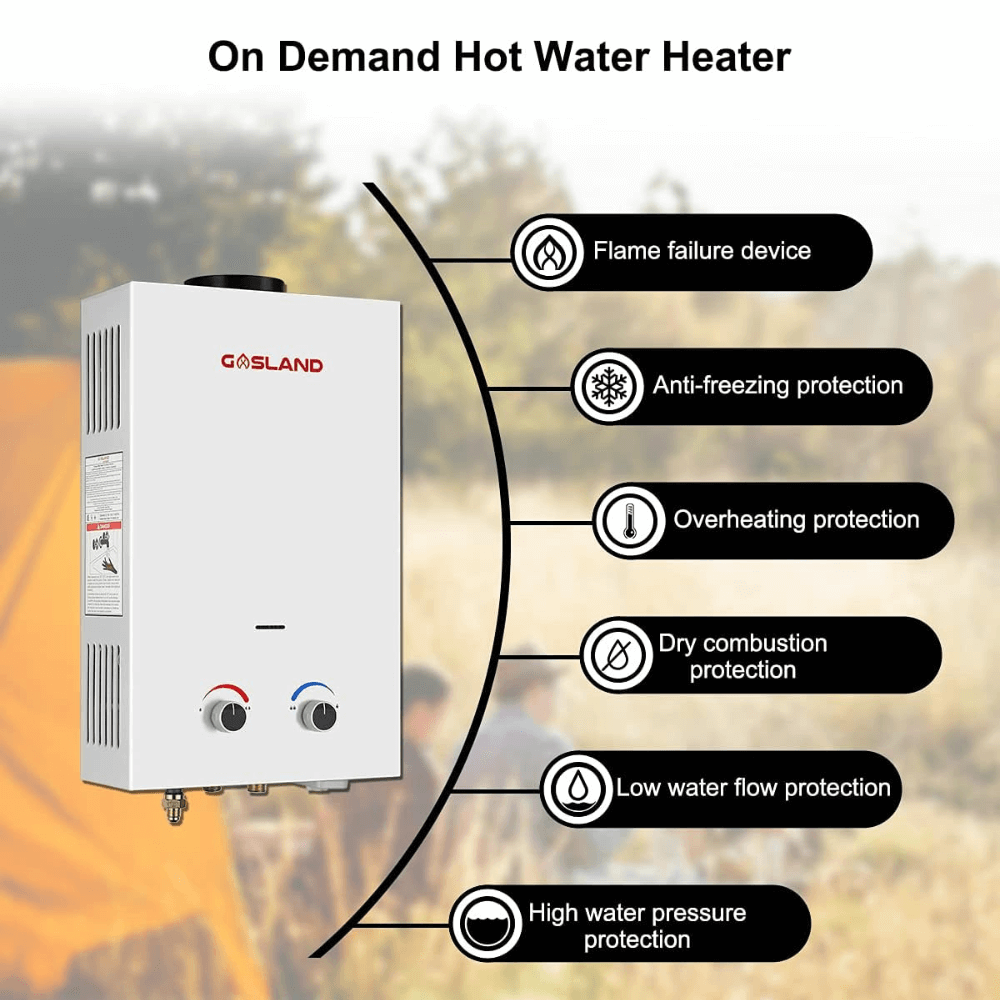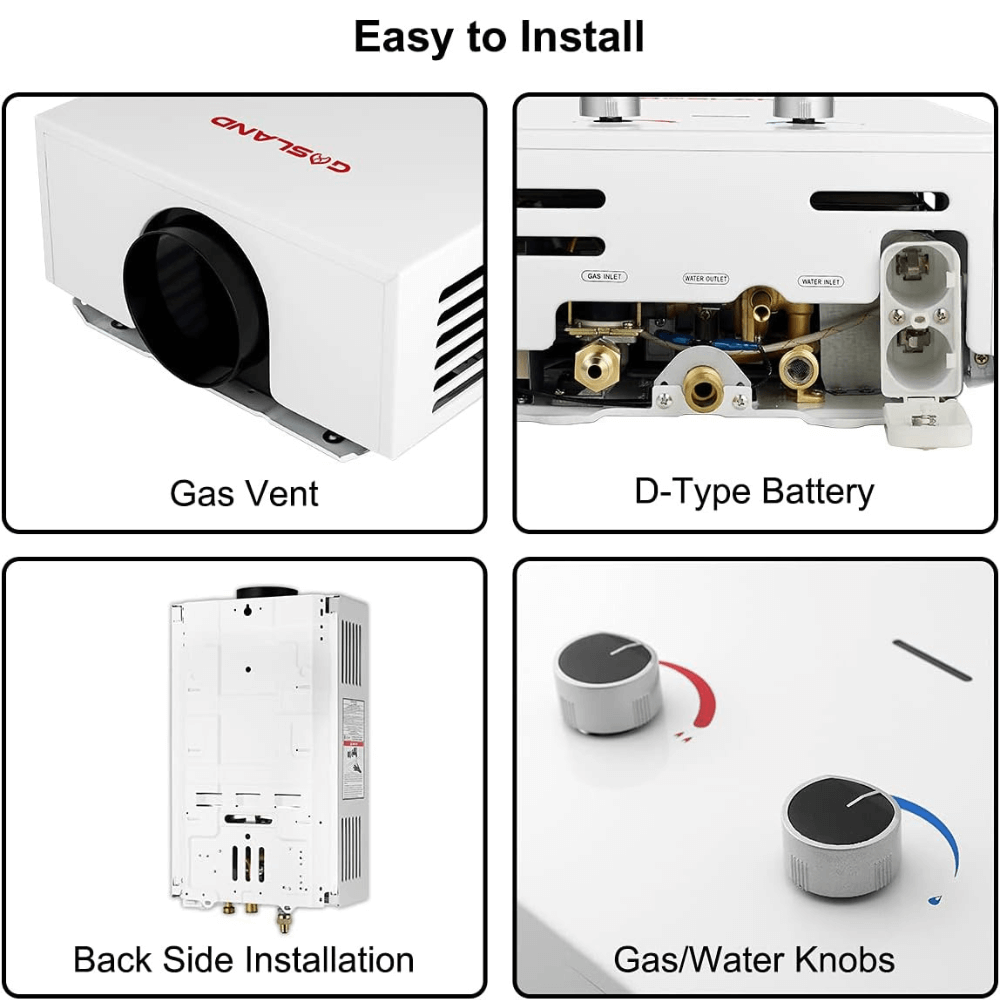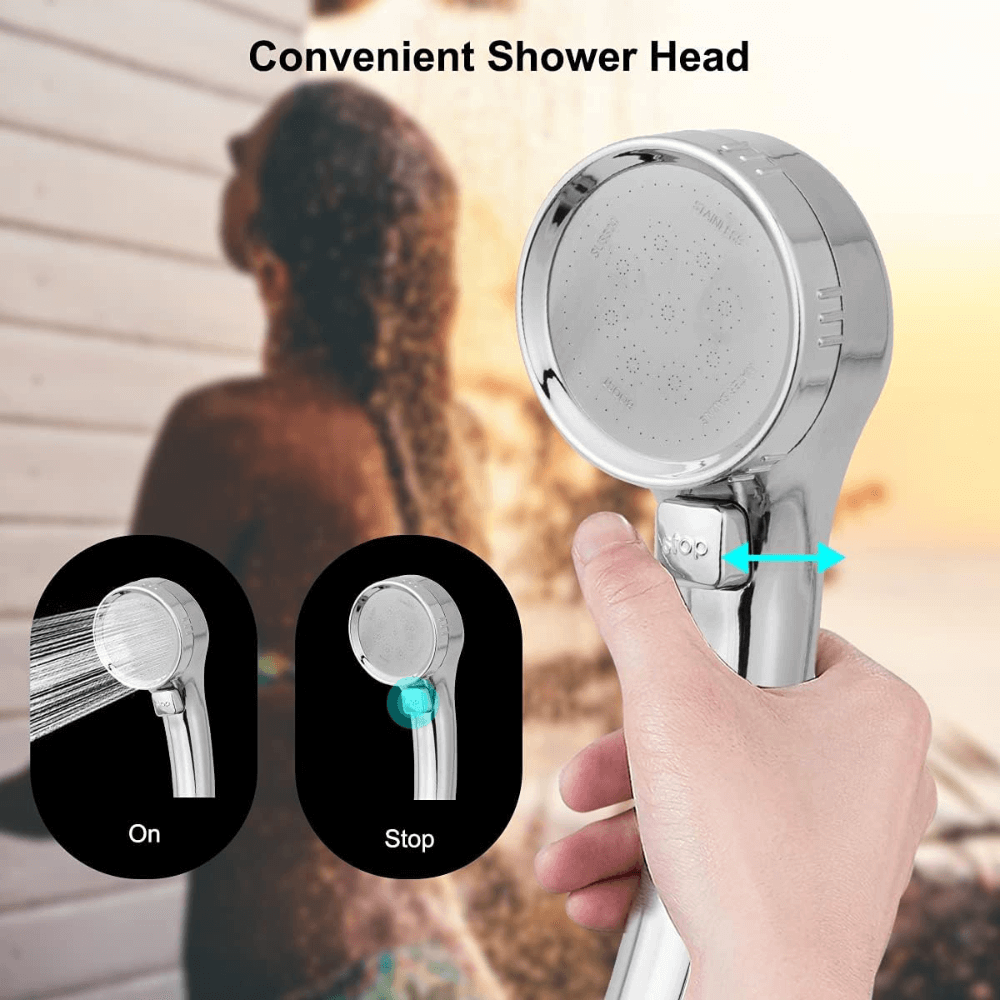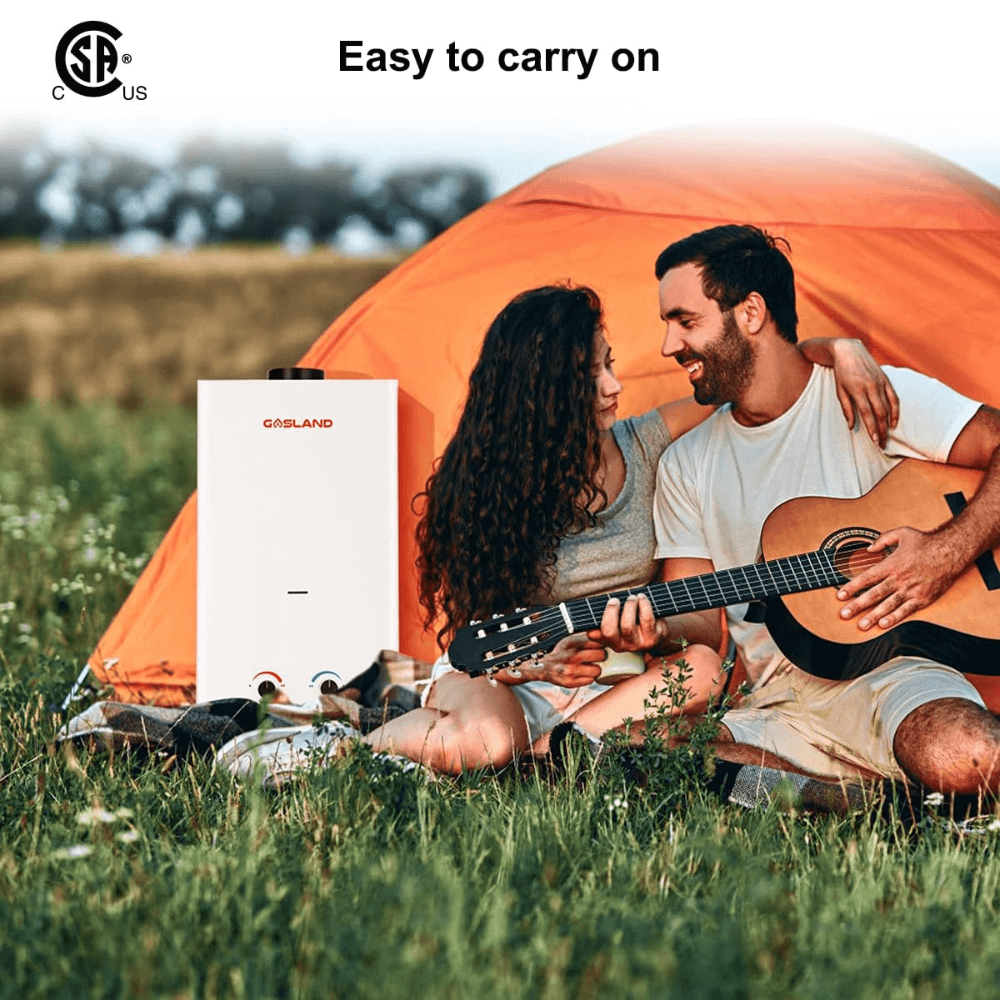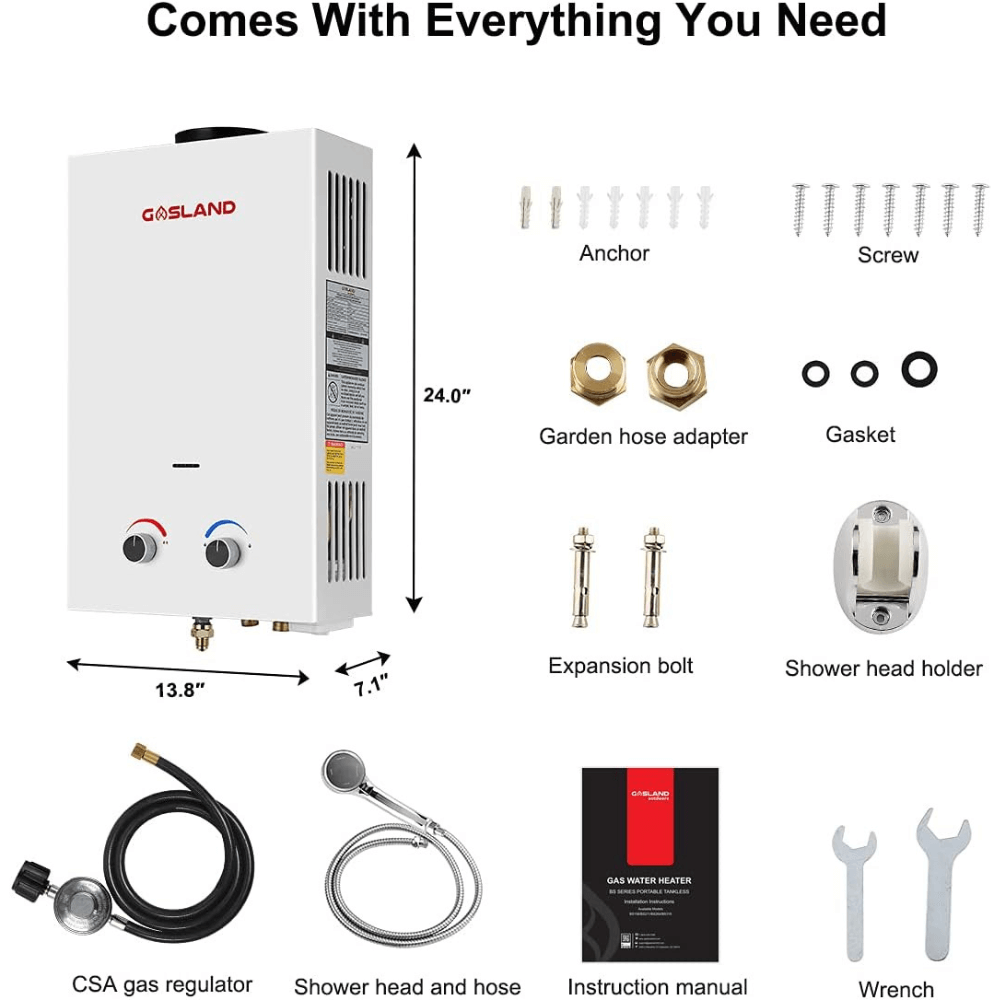 GASLAND Outdoors Water Heater 3.18GPM 12L Portable Tankless On Demand Propane Water Heater for RV Camping
| | |
| --- | --- |
| | 6% Off For First Order, Code: NEW |
| | FREE Shipping From CA | Sameday Dispatch |
| | 30-Day Hassle-Free Return |
| | Estimated Delivery in 3-5 Business Days |

BS318 Water Heater
The Gasland propane water heater ensures safety with flame failure, anti-freezing, and overheating protection. It offers on-demand hot water with a maximum output of 68,000 BTU/hour, starting at low water pressure (3.6 PSI). This portable unit is versatile for camping, outdoor activities, or pet washing. It's energy-efficient and important to avoid using Teflon tape for proper sealing to prevent gas leakage. Always check for gas leakage before operation.
【Multiple Protection Functions】The Gasland propane water heater comes with flame failure device, anti-freezing protection, and overheating protection to ensure the family's safety. Automatically decrease water pressure between 3.8-110PSI. The anti-freezing drain plug can discharge the residual water to avoid freezing in cold areas or in case of long-time no use. High water temperature protection over 167 °F. Shut off gas supply automatically under unexpectable flameout.

【Portable Wall-Mounted Design】Portable design for carry-on easily. It can bring an amazing hot shower for you when you are camping, to the beach, etc. Also, you can wash your pets with this portable hot water heater in your garden. Hang it using the mounting bracket on the top/back of the propane water heater. It only takes you a few minutes to install it. Or you can install it according to the instructions.

【On Demand Endless Hot Water】 Maximum power output 68,000btu/hour, get instant endless hot water easily wherever you are. There is no need to preheat before using the RV camping water heater. As soon as you turn on the tap, the water flow with your desired temperature. Low water pressure 3.6 PSI start up. 2.64 gallons per minute of on-demand hot water. Fully adjustable heat and water flow.

【Energy Saving】 Compact and lightweight structure with 11.5% energy-saving technology. The heat exchanger and main burner of the propane shower water heater are designed with advanced combustion technology to decrease gas consumption and burning noise. It will help you save more when using Gasland tankless water heater.

【Important Tips】To avoid gas leakage caused by improper sealing of the water heater, DO NOT TWINE TEFLON TAPE between the gas regulator and the gas inlet pipe. The gas water heater will "catch on fire "with improper operation. Always check gas leakage before operation.
Shipping Method:
(1)Standard / small orders ship out via: Canada Post and FedEx.
(2)For large items, multiple items or large orders we use LTL freight.
Shipping Time: Standard shipping: 4-6 business days. LTL shipping: 8-10 natural days.
Once an order has shipped we are unable to change or modify it for any reason. For orders that use the LTL shipping method, if the consignee requests to change the destination, the shipment will return to the shipper and we will issue a refund less the 20% restocking fee.
Order Processing Time: 1-2 business days.
*Business days don't typically include weekends, however Saturday and Sunday deliveries may occur in certain zip codes.
*If you need to request a cancellation or make any changes to your order. Please contact our customer support as soon as possible by telephone at (844)-538-7890 or email at (support@gaslandchef.com) Monday - Friday from 9am -5pm EST. Unfortunately once an order has been sent to our warehouse we cannot guarantee cancellation or changes as to we are working quickly to get your order to you.
1: If you would like to return an item, please contact our customer support via email at (support@gaslandchef.com) or telephone (844)-538-7890 Monday - Friday from 9 am -5 pm PST to request a return within 30 days of delivery for a full refund. When contacting our support team ensure you provide them with your return reason.
2: Returns made without approval will not be accepted as to we have different return addresses for different products.
3: For returns due to buyers remorse (ie: Order by mistake, Does not fit, Change my mind, No longer needed, etc) customers are responsible for the return shipping cost along with a 20% restocking fee applied. You should also save your tracking number to confirm when your item has been received at our location. Items being returned due to defects or quality issues a pre-paid return label will be provided to you upon you providing us with any pictures/videos showing the issue you are encountering.
4: If an item is found to be damaged in shipping. Do not accept or sign for the product. Simply refuse the package with the carrier and contact our customer support asap.